For most professionals, your car is like an extension of yourself. Between the daily commute and your weekend day-trips, you spend a significant amount of time in your car. Having a well-organized vehicle can help improve your car-riding experience by knowing where all your items are located. You know where your shades are, where your car-mints are hidden and you can dock your phone or reach for your little cache of toll-road change without even looking. But when your car is disorganized the peaceful easiness evaporates. Your shades aren't docked in the right place when you need them or your toll-change has spilled out over the floor. Worse, when you go for your picnic or camping supplies in the back for a sunny weekend afternoon, you find that it's scattered all over the back cargo area.
Car organization matters a great deal to enjoying time in your vehicle. That is exactly why we've put together the top ten items to keep your car pleasantly organized and all your items conveniently at-hand.
Top 10 Car Organizers
You can never have too many trays to store your personal items in the front seat. While the term "ashtray" is more than a little outdated for most modern drivers, the traditional ashtray is the perfect place for your toll-change, your shades, lip balm, work badge, and all other small pocket-sized items. This cup-shaped ashtray holder can keep everything safely tucked away so you can be sure all your essentials are exactly where you left them.
For riding with passengers, a rear cup holder is an absolute must. Whether you're rolling through your favorite family fast food or carpooling with coffee drinkers, the rear cupholder is essential for turning your vehicle into a guest-friendly ride. It helps prevent spills and makes your backseat passengers feel more welcome with this simple addition.
Camping, vacationing or just regular grocery shopping makes the cargo organizer an essential way to keep your vehicle tidy and your back-cargo area quiet. This sturdy upright cargo organizer helps keep items in place and prevents them from rolling around, getting displaced or broken. The cargo organizer is great for holding shopping bags, beach supplies, sports equipment or a few coolers worth of picnic and barbeque items. The organizer can easily be collapsed when not in use or if the cargo space is needed for larger items.
For modern drivers and passengers, there's no question that an extra power outlet or three is incredibly useful. Charging your phone, tablet, and your passenger's lightweight laptop all at the same time is possible when you have the right vehicle accessories. Additional power outlets are helpful for your organization because they ensure that you are not constantly juggling which device gets the one or two sources of power in an un-accessorized car. With vehicular power outlets, you can provide power to yourself, your front passenger and passengers in the back so that everyone can power their devices on the road.
A deep center console is great for storing larger items, but most of the time we just need a place to set our phone, wallet and be on our way. A tray is a great car organizer idea. This handy center console tray will sit lightly at the top of your center console, just under the armrest and even has a handy cord slot so that your phone can be plugged into the lower part of the console without catching in the armrest aperture. This is also a great place to store small items that tend to get lost rattling around in the bottom of your center console or ashtray compartment.
Cargo nets are one of the singular most versatile and useful ways to organize your car, and there are several types of cargo nets to choose from. One very handy way to make use of cargo net technology for yourself and your passengers is side-door cargo nets. These nets can be added to any door of the car to help keep essential items in close reach. Side-door cargo nets can hold books, your phones, hand sanitizer, a water bottle or really anything you want to have close-at-hand. These can also be docked on the sides of your rear trunk area for additional storage of smaller items that can be stored in the back.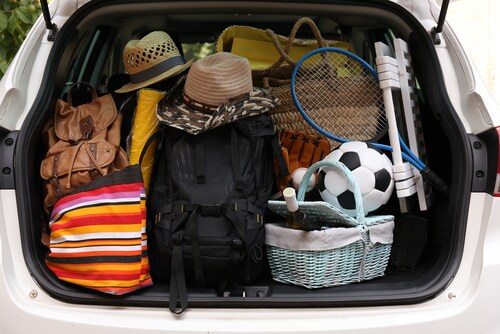 The trunk cargo net can be in addition to or alternative to the cargo organizer. The trunk cargo net is a quick elastic netted solution to keeping just about anything from rolling around in your cargo area. They are particularly useful for sports gear and camping equipment, which is often rounded enough to roll. But you can tame a small load of groceries with your trunk cargo net as well. The trunk cargo net is also great for when moving larger items and keeping them from hitting against and scratching the trunk.
The cargo separator is a unique organizing device for preventing large boxes and other items in the cargo space from joining the passenger area. This large gate built for your vehicle is sturdy enough to resist heavy impacts serving multiple purposes when your back seats are folded up or down.
The sub-floor storage tool tray is a special tray that fits underneath the main level of your cargo area. It is reinforced plastic and a solid surface, allowing you to keep heavy items and assorted tools in the trunk of your car while preventing them from moving around on sharp turns or quick stops. For DIY enthusiasts, tradespersons or just the handy type who like to travel with tools, the sub-floor tool tray is a smart addition to any vehicle storage plan.
Finally, don't forget your sunshade. This may not seem like an organizational item until you realize that it keeps everything else safe when you exit the vehicle or even stop for a road-trip nap. Having your sunshade tucked somewhere convenient like under the passenger's seat or between the driver's seat and armrest is a great way to ensure that you can always protect your dash, devices and privacy at any time.
The best part is that these ten items that can help organize your car can easily be found on the Muller Subaru website. The site offers a "Let's Confirm Fitment" to ensure that each accessory will fit your Subaru vehicle perfectly. Whether you're looking for more car organizer ideas or already have the perfect plan to keep your car organized, Muller Subaru in Highland Park has everything you need. Design your front-seat for easy-reach convenience, keep your trunk tidy and offer a few extra storage options to passengers all at the same time. Contact us for more car organizer ideas or if you have questions on these wonderful Subaru accessories.
Image Credit:
Shutterstock/Ira Shpiller
Shutterstock/Africa Studio