Subaru's Symmetrical All Wheel Drive Sets them Apart from the Competition
The vast majority of car manufacturers create vehicles that designed to be front wheel drive and then you can purchase the upgraded all wheel drive option for more money. Subaru's AWD is designed from the start to be all wheel drive. Their AWD models are thus designed for maximum efficiency for AWD from the start. Other companies on the other hand offer base packages for many of their SUVs and even pickup trucks with AWD optional. In the process of doing so they manufacture a base model that requires power to rerouted from FWD engine to the rear wheels in order to achieve the same effect. This means that the power output is going to be biased toward the front wheels of the vehicle, and is thus engineered asymmetrically. This is a great design if you want to create a base model with AWD, but it's less great for someone who is actually looking for AWD vehicle. Here, typical car companies are designing a one size fits all solution in which the drivetrain is imbalanced. This of course saves them money and afford them the illusion that they're offering more options. In reality those that upgrading to AWD vehicles from the base FWD package are getting a less efficient AWD vehicle.
"Subaru was the first company back in 1974 to produce four wheel drive vehicles," says one market analyst from Libertyville. "Subaru has chosen, in an era that is dominated by SUVs and safety concerns to develop AWD vehicles that are actually AWD. The problem with AWD that's been adapted from FWD is a matter of how energy is distributed to the tires. In some cases, the AWD won't engage unless the tire has lost traction. It's efficient in terms of production, but not so much in terms of execution."
"So in a market dominated by SUVs, Subaru is doing something really smart, and it's very effective in terms of marketing to areas where the driving conditions can be unpredictable. On top of that Subaru has managed to design their AWD so efficiently, that it gets comparable fuel efficiency to other front wheel drive cars in the same class. For instance, Chevy's compact sedan, the Spark, gets 30 mpg in the city, while Subaru's Impreza, also a compact car, gets 28 in the city. It ticks a bit lower on the stat charts but is the average person really going to notice the difference? Not likely. Add to that a reduced concern with fuel economy in the 2017 market and Subaru is offering its customers something they can't get anywhere else, and it's resonating with buyers, especially those that are looking for a true AWD vehicle."
---
For Those Investing in a New Vehicle, Subaru Offers Something Competitors Can't
It's no secret that the sedan market is slowly failing. After years of support from consumers, new car buyers are investing in larger and larger vehicles. Gone are the days of smaller economy sized cars. Gone are the days of auto buyers investing in fuel economy.
"I think there's a number of factors that play into why the market has shifted toward larger vehicles and why Subaru dealerships have done a great job of marketing all wheel drive vehicles that come standard," says one Libertyville analyst. "When the market is poor and people are thinking about their wallets, you're going to see the sales of smaller economy cars with great fuel mileage go up. But in a good market, buyers are going to be interested in going after what they want. And what they want is a confluence of comfort, safety, entertainment, and a slick design. It's part of the reason SUVs of the crossover variety are dominating the market right now."
While crossover SUVs aren't typically very good at the things that SUVs are traditionally supposed to be good at, they've managed to do something that all manufacturers yearn to do, and that's dominate the family market.
"The golden egg of the auto industry is the family demographic," he continued. "And right now that means producing the best SUVs. This is where Subaru has pretty much set itself apart from the competition. Most of the newer crossover SUVs and even some of the midsize pickups are all either front or rear wheel drive standard. As an upgrade package other brands offer AWD, but now you're talking about fitting an AWD drivetrain to a chassis that was built for 2WD. That means rerouting the output from the front or the back to the wheels that weren't getting power before. Subaru builds all their vehicles as AWD standard with the exception the BRZ, which makes them far more efficient than other companies AWD offerings. If you look at the fuel economy of AWDs compared to FWDs, FWDs are generally significantly more fuel efficient. Subaru's AWDs get comparable gas mileage to most other company's FWD models, and much better fuel efficiency than the other company's AWD models. For those out there that are looking for an all wheel drive vehicle, Subaru is making the best right now."
In fact, for years, Subaru has been considered a niche auto manufacturer because of its focus on AWD drivetrains, but in today's market, that all could change.
"With the family demographic moving toward SUVs of the crossover variety, and many of them willing to pay out of pocket for the AWD upgrade, Subaru's focus on true AWD is making more and more sense to drivers."
---
Was Subaru Outback the First Crossover Vehicle?
Subaru has been known for a generation as the trend setting mastermind of the all wheel drive system that it offers standard on its modern vehicles. To this day, those that are seeking all wheel drive vehicles, especially for smaller cars, are looking at Subaru's symmetrical AWD drivetrain for offering the best AWD option in the business. One lesser known fact about Subaru's original outback design is was among the first to mix the higher ground clearance and SUV stylings with the unibody design and driving mechanics of the sedan.
"Subaru is well known and well liked because it's always pushed the envelope in terms of engineering, and the older Outbacks are just another example of that," says one Libertyville, Illinois market analyst. "Of course, all of this happened before crossovers became a segment unto their own, and even before the term crossover had been conjured up by the marketing gurus to sell a new style of hybrid sedan-SUV. In 2017, however, crossovers represent the largest segment of all car sales. True SUVs that are built on the platform of a truck are becoming more and more rare, and so are the sales of sedans. Truck based SUVs are beginning to occupy a niche market of off road enthusiasts and the family market has shifted toward midsize crossovers with large roomy interiors that can seat 7 passengers. Sedans on the other hand have gotten larger and larger to meet customer demand for larger vehicles on the road, and that still hasn't been enough to prevent the sale of smaller crossover SUVs from eating into their market share. But yes, Subaru was making crossovers before it was cool."
"But true to Subaru's form, the Outback also comes with standard AWD which means that you don't have to pay for an upgrade package in order to get a retrofitted AWD system that reroutes power from the front wheels to the back," he continued. "Subaru's AWD gets comparable gas mileage to most company's FWD systems and much better gas mileage than other company's AWD systems making it the brand of choice for those that are looking for AWD as one of their top options."
"The major selling point of Subarus is that they're some of the safest cars on the road. The AWD system is going to handle well on snow, ice, and rain. On top of that, Subaru is offering a whole host of driver assist features with the Outback in the EyeSight package, that takes advantage of the it's standard camera based technologies. That includes brake assist, throttle management, blind spot detection, and lane departure warning. So for Subaru, safety comes first."
---
The Muller Subaru Difference: Our Five Star Ratings Tell the Story
Today when you want to buy something you can consult online reviews to make your decision easier. When you make your purchase you want to feel good about it - that you've gotten a quality product at a competitive price. It's the same when you buy a new Subaru; you want to go with a dealership that has built up a terrific repuation because then you know you'll have an amazing car buying experience. 
Here at Muller Subaru in Highland Park  you can feel at ease from the moment you step into our dealership. While it's a good idea to do your due diligence, we believe you'll immediately notice the Muller Difference - that's because that great reputation you're looking for is at the heart of everything we do!
Over 40 Years of Customer Satisfaction: That's the Muller Subaru Way
For over 40 years Muller Subaru has delivered on its promise: 'You Will Not be Disappointed'. Car buyers in the Highland Park/Libertyville/Chicago area not only drive away happy, they come back and buy their next car from us, too! Here's why:
Outstanding inventory of new Subaru models
Great selection of Pre-Owned & Certified Subarus!
Record breaking sales means we receive more Subaru vehicles; this means even greater savings for you!
Award winning service department
Easy online appointments
Open Six Days per week
After Hours Drop Off
With all of these benefits, its easy to see why car buyers depend on Muller Subaru as their 'go-to' dealership in Highland Park. And even though we offer all of these advantages and more, today it's key to have top online reviews that back up what we say. 
5 Star Sales & Service Excellence 
Muller Subaru has those 5 star reviews you're looking for - so check out what customers are saying!
'I recently purchased my third car from this dealer…'
'Sales process was clear and direct…'
'A wonderful experience purchasing our new Subaru…'
'Very pleasant, professional and accommodating…'
'My very first car buying experience and it was amazing…'
'Got an amazing deal on a trade…'
'Acted like they were taking care of their own car when we needed to have service work done…'
Be ready to join these customers as part of the Muller Subaru family! Check out our Reviews Page and come on in and see our full inventory of incredible new and Pre-Owned Subaru Legacy, Outback, Forester, Crosstrek, Impreza, WRX, BRZ and more quality Subarus! Experience the Muller Subaru Difference!
---
Muller Subaru Makes Service a Breeze!
Everyone's busy these days and you're no exception - what with work and personal commitments, it can be hard to find the time to get your car serviced. Here at Muller Subaru in Highland Park we've made taking care of your car one of the easiest, most stress-free things you'll do today!
Award-Winning Subaru Service Built Around Your Needs
The best reason to visit Muller Subaru in Highland Park for Subaru service is that we treat every customer as an individual. We know your time is valuable, and that's why we've created our Service page on our website to take into account your unique situation. When you want to schedule service, just select the section that describes your needs:
Log Me In - You've registered with us before and want to manage your account.
Find Me - You're a returning customer. We can get you going via your phone number or your confirmation code. You can even edit or cancel your appointments online.
I'm New Here - Just tell us a bit about your car and we'll get you started.
I'm in a Hurry - Click this box and sign up for the next available appointment.
You're More Than a Customer - You're Our Guest
OK let's say for example you have scheduled an appointment with us via our website. Here's what you can expect at our Subaru dealership from our Stellar Care Award-Winning Technicians!
You're more than our customer; you're our guest. You'll feel great about our highly skilled, factory-trained technicians and state-of- the-art facility with the most current diagnostic and repair equipment available. And that's just the beginning! We will do anything to stand ABOVE the rest. And that of course includes our competitive service pricing! From simple oil changes to complex repair work, you'll love our low prices and top expertise that keeps your Subaru in like-new condition.
When it's time to bring your car in for service, remember all the benefits Muller Subaru offers. We even provide FREE multi-point inspections. You'll always have your car worked on by factory-trained teams who use genuine Subaru parts. It's a great 'win-win' for you!
Your busy life calls for ways to make things easier. Muller Subaru (serving Highland Park/Libertyville/Chicago area) is ready to make servicing your Subaru the easiest thing you've done all day. Schedule service now and leave the rest to us!
---
Assessing Ownership Costs that Come With the Purchase of a Vehicle
Buying a new car - whether it be used, new or even leased is an exciting adventure that comes with a lot of new responsibilities, costs and freedoms. Walking in and out of a Subaru dealership in Libertyville will feel great and it should, but it's what happens afterwards too that is important as well. One of the main things to look out before you're out the door and into the streets is the amount of ownership costs, financing options and potential deals that could be had while purchasing a vehicle.
Costs of Owning
No dealership or salesperson is going to tell you how much you drive and use a car. This is completely up to the driver to understand and calculate before they go ahead and buy a car. This will work into a number issues that include: gas mileage, style and use of the vehicle. Fuel can be calculated by seeing how many miles are driven on an annual basis and then split up between the months of the year for a fuller picture. It's good to put this down to the month so that you can accurately see how much added price for fuel will be added to the monthly financing.
An insurance agent also needs to know what type of vehicle you're interested in buying or what you've already bought. Insurance rates differ on the type of car that is owned. For example, a coupe will have higher rates because that's what they've determined needs more protection. It's faster and usually more sporty so it may be involved in more accidents and reckless driving. A mini-van on the other hand or compact vehicle at Subaru would get a lower rate.
Intelligent Secured Financing
It's best to know what type of financing is going to be used before entering into the dealership. Are you going to be securing your own loan from a bank, paying in full or utilizing Libertyville financing options already set out on the table. Secure financing should be compared to a number of different options that take into account credit score, length of time for the loan and how much it is going to cost.
It is important to understand the invoice price and compare models of different Subarus in order to get the best deal. Knowing how much the car is cost and your budget both go hand in hand. Once this is taken care of, the many different discounts can be applied to leave with a great deal. There are a lot of deals for people with great credit that they can take advantage of by getting low or even zero percent interest payments. This is one possible option along with student and military discounts for both insurance and payment. These different discounts can all be combined together to walk out of the dealership and into the beyond a happy car consumer.
---
Maintaining Your New Subaru Impreza After Purchasing
One of the greatest things about purchasing a new car is that there is a less needed frequency of service that is needed to keep them running for a long period of time. Even though this is so, it is important to still take a diligent approach to a new Subaru Impreza from a Libertyville dealership. These are great new cars that can contend with a lot of heavy driving and more, but it's always important to remain and stay vigilant.
There are a few types of checks that should be done throughout the lifecycle of a new car so that it stays up to date and ready to roll throughout the long hard years and years ahead.
Basic Upkeep On a Monthly Basis
Right out of the dealership, it's important to check the engine oil at all times. Usually on-site technicians will do this right away before and after an oil check.  After the car is in your sole possession it's important to begin doing this by yourself to maintain that the car is in proper and great condition. The best way to do this is checking for an oil leak and parking the car on a level surface to check for spills and an accurate reading.
The engine is an essential part of the car and so are the tires as well. Checking for tire pressure is best done throughout the winter months as well. But know this, tires can get worn out anytime of the year so beware. The most accurate tire pressure gauge is going to check each individual pressure and then it should match up with the listed PSI on each tire. Try not to go above or below but just right for your brand new Impreza.
Hold the Aesthetics in the Highest Regard
A great outlook on a car comes from an exterior view. A car should be washed everyday if possible and always in the utmost care. Take special attention to the outsides and the windows. Windows are often an overlooked part on the car. There are all types of ailments that can affect them during the different seasons. During the summer months road construction might be spurting up a ton of dust  and getting ingrained into the window wipers. The winter then has to contend with the rapid proliferation of salt to rid the roads of ice.
Once things like the oil, gas and tires have been taken care of - look towards the overall picture of the car and keep maintaining it. The interior shouldn't be neglected and with the proper care and elbow grease it can maintain that new car smell all the way out of the dealership.
---
Preparation for Purchasing a New Vehicle
You never know when you might be in the market for a new vehicle. Driving around in the same old Subaru the past couple years down the Libertyville street gets tiring and you might be looking for a change. The second most important purchase anyone makes during their life is buying a car. The first largest purchase of course is a home. This is a major decision that shouldn't be taken lightly if you're ready to buy.
It is important to lay out a budget that can be worked with, tweaked and tentatively changed at a moment's notice, along with having an ideal selection in mind and being ready to pull the buying trigger when the right deal surfaces.
Budgetary Plans Should Be a Number One Concern
While you might not be able to get your dream Bond sports car and pull out onto the autobahn at blazing fast speed; it's important to be realistic. What may seem like a good idea at the time won't be after the first monthly payments start rolling in. A general code to live by for car payments is that the monthly bill won't exceed a monthly house bill by twenty five percent. This figure should account for more than just the financing or loan, but include also insurance, fuel and upkeep costs.
Alongside determining a budget there should be a real question asked about either buying new, used, trade-in or leasing. A great way to purchase a good deal is by waiting for a large number of leases to return to the dealership, Subarus that are leased and returned are at great prices. These have been on the market for about three years old and have to be in tip top shape once they're returned to the dealership. This is an inexpensive option to get a car with great mileage, reliability and style without breaking the bank.
Trade Offs for Method of Acquisition
Buying used comes with its own set of cons that include a possible higher interest rate, ending warranty period and sometimes shady background history. Check with the dealer to know the full range of what the car has been through. Leasing will allow buyers to get a brand new deal and pay less of a premium but they won't own the car. There are some important terms that can't be glossed over as they can affect the lease and result in some heavy penalties.
A new car will come equipped with a great host of features, full warranty and lower interest rate, but will be at the top line of any sensible budget. Streamline the decision by having an autobody style already in mind and be ready to choose from a great collection of vehicles.
---
Taking The Long Haul Cross Country Road Trip With a Subaru Crosstrek
If you're planning on taking on the long distance drive through Libertyville and going cross country, well then the Subaru Crosstrek is the right car for the job. From the great coasts, up the mountains down through the valleys and across the fields to Libertyville and beyond this great car will go. Long road trips are an epic modern journey that are worthy of some proper preparation time. These road tripping tips will give the modern driver all they need to stay alert, ready and prepared for a great journey ahead.
Planning in Advance
The Crosstrek is a great car for the job for a number of reasons. It has the space and power needed to store and transport all of your essentials. Whether it's a long ride to the other side of town for an expedition or complete trek across the country it will handle the long roads without a problem. One of the first things that should be done before any long haul trek is filling up the car and yourself. Pump that gasoline and pump those healthy foods into both inter-state voyagers so that they're running on maximum capacity! Get by with plenty of perishable goods and snacks along the way.
The Subaru Crosstrek's great gas mileage is going to help out along the way without tiring out and breaking the bank in fuel costs. Food and water isn't going to be that bad of a cost either. The best method for hydration for yourself comes in the form of handy water and the space in the back of the Crosstrek is ample enough for more than a few gallons.
Towing Capabilities & Storing All of the Essentials
Drivers never know what may go down on the road. Maybe you and the family have decided to get an early start on it and the night is still raging on. If that's the case then it's important to have important items like flashlights, batteries and satellite phones on hand, especially if you're driving through some desert terrain.
It's important to plan your stops. This may vary depending on the type of trip that you're taking in the Crosstrek. The essentials for camping and driving across state may vary. The good news is with around 1,500 pounds of towing capability, the vehicle is not going to be tiring out anytime soon.  
Have enough room for luggage if need be, camping essentials and proper nutrition along the way. Each kind of long haul trip calls for a different set of needs. The most important need you have covered is the car. Keep it in check, tune-up beforehand, turn the key and drive to whatever destination is on the horizon.
---
Prepping the Vehicle and Yourself for a Camping Trip Out in the Wild
Out on the open road anything is possible. A trip to a beautiful nature reserve, camping under the stars with family and friends or just seeing the country in its splendor and magnificence. It's a thrilling time that needs to be preceded by proper prepping of both the mind, body and car. Luckily with a Subaru Outback in Libertyville, most of those things are already covered. That striking chassis of the hard bodied Outback is ready to take its passenger for a ride. Prepare to be stuck out under the stars with a roaring towing capability from the great plains to tranquil Libertyville.
These are some of the main things you'll have to take into consideration for preparing yourself and the outback for a camping trip out in nature.
Wild Camping Outback Style
Nature should be accessible to all, but a great many people don't have the proper driving capabilities to get there. One of the first things to keep in mind is what type of vehicle you'll be subjecting to the elements. It takes a lot more planning than just packing a few necessities here and there then turning the Outback key. A great many of campers are used to trekking the great outdoors and know that there is much that goes into the process. For one you need to select a destination.
A great car can get you to a myriad of places. The open roads of the United States has got a near never ending selections of great places to visit. From the open fields of the prairie states to what seems like enchanted forests of the south and coastal getaways for all sorts. One of the first things to have in mind is a proper destination. After that is picked, the rest of the planning can commence.  
Scout Out the Location Online Beforehand
Unless you're a veteran who's made the visit multiple times, it's a smart thing to check out pictures and maps online of the intended destination. Scouting out the camping destination helps if you're going to be staying there for an extended amount of time. Join some forums and ask around to see if there is any back roads that need to be driven on as well. Having the proper vehicle is half the battle.
Depending on the type of terrain it's a good idea to have the trailer equipped with the essentials. This might include some great fishing gear, a couple of tents and sleepers for a warm night or charcoal for lighting a bonfire. Make sure to gas up the car before heading out on the road and check the trailer hitches extra twice. The Outback will hold and the adventure can commence!
---
PURCHASING A VEHICLE? PLAN FOR YOUR NEXT TEST DRIVE
Are you ready to make your next vehicle purchase?  Or are you a first time car buyer and don't know what to expect?  Whether you are purchasing because of want or need, you will want to ensure you approach your next purchase as an informed consumer.  Part of your information gathering process will be to complete a test drive.  Experts recommend that each consumer test drive a few vehicles before making a purchasing decision, and don't just rely on the quick 20 minute jaunt around the dealership - enjoy the experience and really take the vehicle out on the road to ensure you have an opportunity to evaluate the different features and how the vehicle handles the road.
Before you set out on your next visit to a dealership, consider the following steps when planning for your test drive:
Do your homework and make a list
Before you even walk through the front doors of a dealership, know what type of vehicle you are looking for.  If you have a daily highway commute from Libertyville, perhaps consider a Subaru Crosstrek instead of a Ferrari (be practical for your needs).  Make a list of the features that you are looking for and don't be afraid to stick to your list to ensure you do not have any regrets with your purchase.
Schedule test drive appointments
Schedule a day of test drives with multiple dealerships.  This will ensure you have the opportunity for a full-day of comparison shopping and will minimize the potential to purchase on the same day; providing you with valuable time to reflect on each vehicle and compare features and feel on the road.
Bring a friend
The goal of any dealership is to sell you a vehicle on the first day you walk through the doors.  Bring a friend with you to help you stay on track and focused on your goals.  A friend can also offer an unbiased opinion on your purchasing decision.
Have copies of your driver's license ready
Before a dealership will allow a consumer to take a vehicle out for a test drive, copies of a driver's license will be required.  Be prepared to show the dealership the original, and then provide them with a photocopy of your license (front and back).  When completed the test drive, ask for the copies back to help protect your personal information.
Drive the vehicle
What does your daily commute / driving habits look like?  Are you on the highway each day, do you bomb around town with a lot of stops and starts?  Treat your test drive as an opportunity to test out the vehicle during your usual commute.  This will provide you with the best insight into how the vehicle will operate for you on a daily basis.
---
THE HIDDEN COSTS OF BUYING A NEW CAR
The costs of buying a car are not limited to the sticker price or the negotiated deal you may have worked out with the dealership.  There are often extra fees and charges added to the final price that you as a consumer will want to be aware of before you sign off on the deal.  Buying a new or used car is definitely an exciting process, and no matter your budget - whether you are looking for a Lamborghini or Subaru Outback in Libertyville - you don't want to end the experience with additional charges you didn't factor into your purchasing decision.
While the list of potential charges can be quite lengthy, below is a quick snapshot of some of the most common charges that you will want to be aware of before finalizing your deal.
Finance Charges
Like most of us, you probably don't have $30,000+ lying around in cash to purchase your next vehicle, which is why you'll most likely be relying on either a loan from a bank or financing packages through the dealership.  Before you purchase, talk to the bank and determine their rates.  There is no sense in paying extra just for the convenience of using the dealership financing packages if it is going to cost you hundreds in the long run.  Also watch for advertisements of 0% financing options through the dealership - this is often your best time to buy.
Fees
Although extra fees are often itemized on the sticker price (destination and delivery fee, documentation fee, compliance fee, registration fee, etc.), it is in your best interest to review each item and discuss with your sales dealer to gain a full understanding of the purpose and cost of each fee.  While some fees are standard and legitimate, there may be some that are negotiable or at the very least, you can use as a negotiation tool for the overall price.
Add-ons
So you have decided on your purchase, the price and are now in the finance manager's office to sign off on all the paperwork.  It's at this stage that you will need to be aware of the up-sells that can happen.  While some of the upsells are valuable and worth purchasing, some items are actually more expensive when purchased through the dealership, may not be necessary, and will add to your monthly payments in the long run.  Before this meeting do some research on the typical add-ons that are offered at this meeting and be prepared for what you are willing to purchase and what you are not.  Going in prepared will ensure that you do not mistakenly purchase an unnecessary item.
---
TOP 5 OFF-TRACK ROAD TRIPS TO TAKE IN ILLINOIS
With the fall weather approaching, some will opt for a road trip excursion versus a walking trail or hike through one of Illinois beautiful forests and trails.  Fall is a great time to get out of the house and experience the changing fall colors on the trees, or day trip to some of the most quirky attractions the state has to offer.  So hop into your vehicle and check out our list of top five attractions when planning your next state road trip.
Muffler Man and Cow
Those in the Libertyville area, hop into your Subaru Impreza with the kids and head out for a day trip to see the Muffler Man and Cow statue at Lambs Farm.  Right off the interstate, this attraction features a 15-ft tall statue of Paul Bunyan Muffler Man and Bessie the Cow.  In addition to the photo op, families can also partake in mini-golf, a petting zoo, and novelty train ride all while learning about local farming.
World's Largest Rhubarb
Aledo Illinois features an annual rhubarb festival in early June, and why not celebrate all things rhubarb but with a 10 foot tall metal rhubarb.  Unless you are going to attend during the festival (which has lots of family oriented activities and amazing eats), the statue may not be so exciting.  But it definitely tops our list of quirky attractions in the state.
World's Largest Chair
Another 'world's largest' attraction in the state of Illinois is the World's Largest Rocking Chair in Casey.  This chair is a massive undertaking of quality craftsmanship with the chair a towering 56 feet tall and weighing 46,200 pounds.  While in Casey, also check out the world's largest wind chimes and world's largest pencil - all just down the street.
Oz Park
The City of Chicago has so much to see and do - as a major city, visitors can take in high-end shopping, experience a variety of food and top rated restaurant choices, and also experience local theater productions.  And for those looking for something off the beaten-path - consider Oz Park which features Wizard of Oz statues including the Tin Man, the Cowardly Lion, Scarecrow, and of course Dorothy and Toto.
Larsen's Christmas Lights
During the holiday season, make a trip out to Elburn Illinois to see the amazing light display of a home in the county decked out with over one million lights, strobes, and lasers.  Making this display even more fantastic is that the lights are choreographed to holiday music.  Visitors often stay over an hour to watch the full rotation of the show while snuggled in their vehicles enjoying a hot chocolate or two.
---
TOP 5 MISTAKES CONSUMERS MAKE WHEN BUYING A NEW VEHICLE
Aside from the purchase of your home, buying a new vehicle is one of the most exciting 'big ticket' purchases that we as consumers have the opportunity to buy.  However, for some the process can be overwhelming when you first walk into a dealership - so many makes, models, options, and price points to consider.  Without a planned approach, the car buying process can be a nerve-racking experience.  But with some research and the right approach, you can seamlessly navigate and take charge of your car buying experience.
Before you walk through those dealership doors, take note of the top five mistakes consumers often make with purchasing their first vehicle.
Not knowing what you are looking for
Before you visit a showroom floor, ensure you take a lot of time to complete some research online.  Prepare a shortlist of features you need in a vehicle and those that would be nice to have.  Scourer the internet for product features, consumer and expert reviews, vehicle safety features, and cost comparison lists.  Check out dealership websites, for example, are you looking for Libertyville Subaru dealerships? Search out your local dealer websites as they are jam-packed with valuable pricing and offer information.  Going into your first dealership with a strong base knowledge of what you are looking for will ensure you have the opportunity to make a more informed decision and come out of the experience with the vehicle that is really going to suit your needs and budget.
Not taking a test drive
You wouldn't buy a new pair of shoes without trying them on - don't buy a vehicle without the opportunity to complete a test drive.  As many as one in six car buyers will not take a test drive before their purchase - not a smart consumer choice.  New vehicles will feel and ride great, so ensure you compare models by test driving a few at a variety of different dealerships.  This will provide you with a true comparison between makes and models.
Discussing your trade in too early
Sure, it may be really easy to take up the dealership on their trade-in offer, but be wary of when these discussions take place.  As a consumer, you want the best price for your new purchase and trade-in.  Hold off the negotiations on the trade-in until after you have agreed on a purchase price for the new vehicle.  This way you can be sure that the trade-in price isn't factored into the deal the car sales staff negotiated with you for the new vehicle.  Do some research as well - ensure you know what your current vehicle is actually worth.
Shop with only one dealer
Don't be afraid to shop around - a dealership is not going to sell out of brand new vehicles.  By shopping around and discussing price and options at a variety of dealerships you can truly compare vehicles and ensure you are getting the most for you money.
Not discussing the extras during the close
Pay attention to the closing details - during these discussions you are going to be offered a lot of extras, so be prepared to say no.  A lot of these items are unnecessary or are much cheaper aftermarket.  As well, check to make sure that anything you negotiated in during your discussion with the car staff are reflected in your paperwork.
---
ASSEMBLE THE ULTIMATE WINTER EMERGENCY CAR KIT
Winters in Libertyville Illinois can be rough - blowing snow, reduced visibility, icy conditions, and bitter cold temperatures.  Whether you are driving an off-road vehicle, a Subaru or a sports car you will want to be prepared in the event of a roadside breakdown or emergency in Libertyville.
Aside from some general rules of thumb such as dressing warmly and having extra pairs of boots, mittens, and hats in your trunk, you should be putting together a winter emergency kit in the event that you become stranded or need to wait for a storm to pass before help can get to you.  Below is a list of some key items to pack in your kit to ensure you and your family travel safely this winter season.
Food / Snack Items:
Maintain some non-perishable food items in your kit such as snack / energy bars, crackers, and pre-packaged fruit products (i.e. apple sauce).  Ensure to switch out these food items year after year for freshness
Blanket:
Aside from extra items of clothing a warm blanket can help to keep you and your passengers warm.  It is recommended that you keep the engine off as much as possible when stuck to conserve fuel; a blanket can offer an extra layer of warmth.
First Aid Kit:
Although this should be a standard item within your vehicle at all times, ensuring to have a first aid kit as part of your winter emergency kit is good practice.  Many first aid training organizations have vehicle specific kits you can purchase or put one together on your own with some of the standard first aid items.
Small Shovel / Ice Scraper / Snow Brush:
Most of us have an ice scraper and snow brush as standard winter items, but adding a small shovel to the list is a great idea for when you just need a bit of digging to get yourself and vehicle out of a snow drift or snowbank.
Candle:
One candle can provide an alternative source of heat when stranded for an extended period of time.  Just ensure that you have an empty can or deep candle holder before lighting to reduce the risk of fire and burns.
Flashlight:
A flashlight will serve you well if stranded during evening hours.  Days are shorter during winter months which means the onset of darkness happens early.  A flashlight can provide you with a source of light in the event that your vehicle battery dies while you are stranded.
Remember, when stuck in the snow or during a storm, the most important thing to do is remain calm, stay in your vehicle (provided it is safe to do so), turn on your hazard lights, and keep an eye out for emergency responders or other travelers that can help you.
---

Muller Subaru Renews the Love Promise for the 10th Anniversary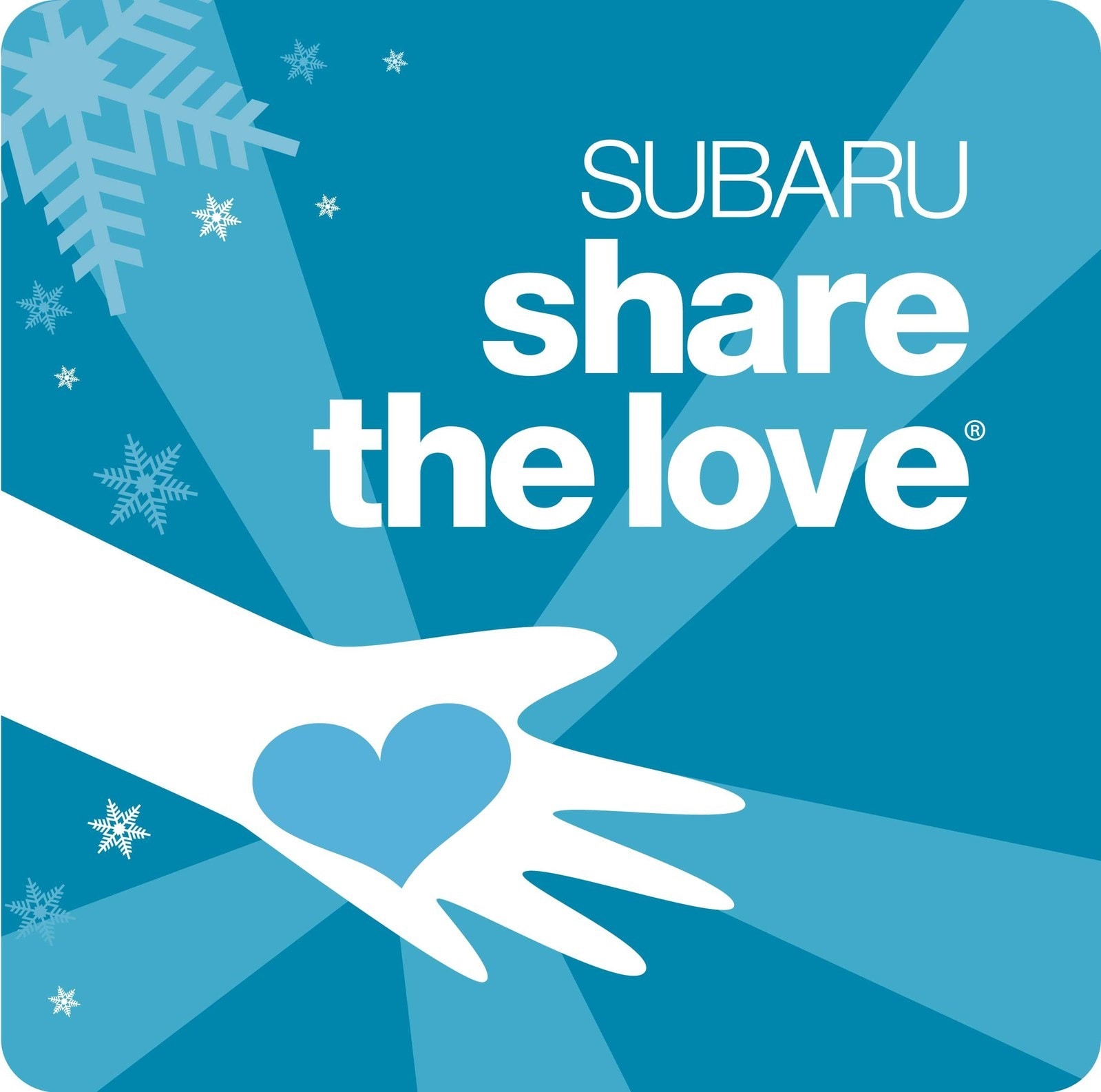 Subaru will donate $250 for every New Subaru vehicle sold or leased!
Muller Subaru is thankful and thrilled to join again with Subaru of America in announcing the 10th anniversary of our Share the Love event. From November 16, 2017 to January 2, 2018, Subaru will donate $250 on behalf of our customers for every new Subaru vehicle sold or leased.
Following the Subaru Love Promise customers can direct the funds to the charity of their choice from among a local preselected hometown charity or one of our national charitable partners:
American Society for the Prevention of Cruelty to Animals (ASPCA)

providing life-saving protection and care to animals in need.

Make-A-Wish

granting wishes for kids with life-threatening medical conditions.

Meals on Wheels America

fighting hunger and isolation among our nation's homebound seniors.

National Park Foundation

safeguarding our heritage and promoting public access and engagement.

Dare2tri 

positively impacting the lives of athletes with physical disabilities and visual impairments
Help us push past $115 million of giving
With over $90 million in donations raised over the past 9 years, and $24 million last year alone, we are grateful for the opportunity to share the love back into our community - to turn the love into action that makes a real difference in the world.
And for the second year in a row, there's no cap on the total donations that Subaru will make to our Share the Love charitable partners. The target this year is to push the grand total for 10 years of giving to over $115 million worth of support for the national and local organizations doing so much essential work all around this country.
Marking Subaru's 50th anniversary in the U.S., Alan Bethke (senior vice president of marketing for Subaru of America) says, "It is part of our culture at Subaru to support causes important to our employees, retailers and owners and we are proud to have continued that tradition for 10 consecutive years."
Neighbors helping neighbors build a better world
With more than 40 years of award-winning customer service for our Highland Park and Libertyville neighbors, and for customers all around Chicagoland, Muller Subaru has a lot of love to share.
We hope to make this our best year ever. And on behalf our worthy charitable partners and all the good things they have been able to accomplish so far, we say thank you for your continued support in helping us help others in need.
FULL DISCLAIMER:
Subaru will donate $250 for every new Subaru vehicle sold or leased from November 16, 2017, through January 2, 2018, to four national charities designated by the purchaser or lessee. Pre-approved Hometown Charities may be selected for donation depending on retailer participation. Certain participating retailers will make an additional donation to the Hometown Charities selected. Purchasers/lessees must make their charity designations by January 31, 2018. The four national charities will receive a guaranteed minimum donation of $250,000 each. See your local Subaru retailer for details, or visit subaru.com/share. All donations made by Subaru of America, Inc.
---
The Cure for Your Winter Blues
There are nearly 20,000 miles of state and federal highways in Illinois and Chicago lies at the very heart of the complex system of roadways. Add three feet of snow to those highways and sub-freezing temperatures, and the daily commute turns into an arctic adventure. Every winter, Illinois area highways turn into a slick mess of ice, snow, and slush from November until March, leaving drivers at the mercy of Mother Nature and the Illinois Department of Transportation.
Make winter driving an enjoyable adventure with a visit to a Libertyville Subaru dealership. With a legacy of reliable full-time Symmetrical All-Wheel Drive, it doesn't matter which great model you choose. From the affordable Impreza to the flagship Outback, winter-time driving will have new meaning in a brand new car or SUV.
In addition to road-gripping traction, many automakers offer a wide-range of additional safety features like traction control and active driver assist. The Outback and Crosstrek models are rated 5-stars for safety, and the Impreza earned a top safety rating from IIHS - the only car in its class to do so. With such a strong legacy of safety and reliability, winter 2018 is the perfect time to think about driving a new Subaru from Libertyville area dealerships.
The time to consider a vehicle's proven winter reliability is now and not when the snow is piling up outside, and Chicago metro-area roads are slick and icy. Built for the intrepid traveler and the dedicated commuter both, a rugged new SUV or truck model is the answer to another brutal Illinois winter and getting you where you need to be each day. Drive with confidence when you know you're in a best-in-class model with the best safety standards available.
Surprise your kids on the next snow day with a safe and comfortable visit to the best sledding hill around. The only wintertime problem you may experience with a new vehicle in the driveway is you can't use the excuse of not being able to get to work on a snowy day anymore.
Chicago winters don't have to be stressful or hazardous anymore. Sitting in the driver's seat of your new vehicle will change your perspective on snow and ice as you discover what sets our cars apart from the competition.
Before the weather turns nasty, take the time to visit your local area dealership to see the new 2018 line of car, truck, and SUV models. Friendly sales staff will be happy to answer any questions you may have about the various makes and models and send you home in a safer more reliable car made for Illinois winters and Chicago-area highways both.
---
On the Road to Adventure in an SUV
With 73 state parks, Illinois offers a variety of outdoor recreation along the shores of one of the greatest lakes in the United States. A dozen wilderness playgrounds are a short day-trip from Libertyville and a new 2018 Subaru is the perfect transportation for you and your gear. From the roomy Outback to the sporty and rugged Crosstrek, a new SUV complements any active lifestyle.
From Lake Michigan to Moraine Hills, Illinois has a lot to offer for nature lovers and outdoor enthusiasts. With the great outdoors come the essentials: tents, bikes, kayaks, and a variety of other gear and gadgets to fill the back of a car or SUV. Having to pick and choose what to take on your next adventure can put a damper in your plans. The next time you're unloading half the garage for a weekend trip, why not fit it all in the back of a new SUV? Don't leave your camp stove at home in Libertyville when you need it at the campsite.
Subaru is a car made for the outdoors and outdoor lovers. With full-time Symmetrical All-Wheel Drive and their Boxer® engines for the power you need to haul all your toys, the current  lineup of adventure vehicles will get you to the places that make the neighbors jealous. With more than eight inches of clearance and heavy duty roof-mounted rails, the Crosstrek is a perfect choice for the explorer in everyone. Equally qualified to carve new trails and haul gear is the 2018 Outback, which known as the company's "most adventurous" model yet.
Anyone living in the Chicago area knows that fun doesn't stop when it snows. For the ultimate in winter driving reliability, a great SUV cannot be beat. When the snow flies and the lakes freeze, it's time to enjoy northern Illinois traditions like ice fishing, skating, sledding, and pond hockey. When you drive a vehicle with legendary handling and control, you'll never miss another perfect snow-day opportunity for fun. A roomy SUV means you can bring all your favorite outdoor gear and sports equipment along with you no matter where the road takes you this winter.
Whether your love is the summer or the winter, with an SUV, you'll go where you want, when you want. Around Libertyville and beyond, a Subaru will expand your horizons. After you've finished a tour of Illinois' state parks and recreation lands, let your SUV be your guide to the rest of the nation and the great outdoors from east to west.
Visit your local dealer today to learn more about 2018's exciting new SUV models and find one to begin the outdoor adventure of a lifetime.
---
The Best Reasons to Buy a New Car
Fewer things give you a better feeling than driving away from a car dealership in a brand new vehicle. Whether you choose a sedan, a compact car, an SUV, a crossover, or a truck, you can't go wrong when  you make the decision to buy new. There are many reasons to consider purchasing a brand new vehicle instead of a used model, and most drivers agree that nothing beats a new car. If you're contemplating between a new or a used vehicle, these are the top reasons why you should buy new:
Top Safety Ratings
When you purchase a brand new car, truck, or SUV you know that you're getting the latest technology when it comes to safety features. The brakes, airbags, mirrors, and sensors will all be top of the line and have the most cutting edge safety technology available. For drivers who travel with small children, they will be especially happy to know that they're behind the wheel of a vehicle with a five star safety rating. Any Libertyville Subaru dealer will tell you that a car like the Impreza is a solid choice when it comes to top of the line safety.
No Maintenance
Having your vehicle in the mechanic's shop all the time is a major inconvenience, not to mention a strain on your finances. When you drive a used vehicle  you lack the confidence you have when you are behind the wheel of a new vehicle because you can never full guarantee that your car won't die or run into engine trouble. Buying a new vehicle means that your car, truck, or SUV will always be ready to drive at a moment's notice and you'll never have to wait for repairs. With a new vehicle you won't have to worry about expensive maintenance costs because you'll be covered by the warranty so any expenses will be covered by the dealership.
Modern Style
A new vehicle gives you a sleek and modern look that will be the envy of other drivers on the road. Forgo a dated model and choose a new car or truck that is up to date with today's hottest automotive trends. A new vehicle gives you the choice of style elements like paint color, interior upholstery color and fabric, and design features like rear spoilers to create a car that you love the look of.
Choice in Features
When you buy a new car, you can pick and choose from an extensive menu of features. These include things like sound system options, heated seats and steering wheels, running boards, built in roof racks, sun shades, and more. Depending on your budget you can choose a modest vehicle package or you can splurge on a fully-loaded car, truck, or SUV that is jam-packed with all of the luxuries that any driver could want.
---
Important Things to Consider When Test Driving a Vehicle
Taking a new car or truck out for a test drive is a fun thing to do, whether you're a serious buyer or simply testing the waters for a future purchase. When you get behind the wheel of a new vehicle, everything will look and feel differently than what you're used to in your current car. It can be overwhelming when you turn the key in the ignition and start to drive, so keep some guidelines in mind before you set out. When you can identify key areas that you want to pay attention to, you'll have a much easier time test driving and evaluating different vehicles.
Steering and Handling
One of the things you'll notice right away is the way a car feels to drive. Many people will comment on how certain cars handle well or provide a smooth ride. Each car feels different to drive, so take note of how enjoyable it is to navigate the make and model that you're test driving. A car from a Libertyville dealer, like a Subaru Outback might drive very differently than another brand of car from a different dealership.
Cargo Room
Depending on your needs, you will want to take note of how much cargo and towing capacity a vehicle has as part of your test drive evaluation. If you're someone who regularly hauls sporting equipment, outdoor gear, or home building supplies, you'll want to look for a truck or SUV with as much capacity as possible. If you're an urban commuter you'll need much less cargo space so this will become an optional feature for you.
Passenger Comfort
Unless you are doing your test drive with a friend or family member,  you might not pay much attention to the passenger side or the backseat of the vehicle. If you typically drive with other people in the car, it's important to find a vehicle that is roomy and comfortable for everyone that comes along with you. Get out of the driver's seat and hop in the back to see how it feels. Make sure the other seats are comfortable and that there is enough seating for the number of people you would normally drive with. For example, families may want to look for vehicles with extra seats that can fold up or down depending on the number of passengers they have.
Safety Features
Of course one of the top priorities of looking at any new car is to make sure it has all the standard safety features you'd expect, and that it uses the latest technology to keep you and your passengers safe while you're on the road. A new vehicle, like the Subaru Outback, will be full loaded with every top of the line safety feature you and your family will need to travel safely.
---
Drive Into a New Year with the Bold and Exciting Performance of the 2018 Subaru Crosstrek
Break out of the same old routine and break into the fast lane to adventure in a new 2018 Crosstrek from a Libertyville area Subaru dealer. With three models to choose from starting at just $21,795, this crossover SUV is the new "It Car" for today's Chicago area suburban explorer. Loaded with performance and convenience options from a power moonroof to heated front seats, it's no wonder why this vehicle is ranked as the #1 subcompact SUV.
The 2.0L DOHC  Boxer® 4-cylinder engine boasts more than 150 h.p. delivered to the vehicle's full-time Symmetrical All-Wheel Drive. Even loaded with 55 cubic-feet of outdoor cargo, you'll have enough power to make a quick escape for the weekend. Whether it's the 6-speed manual transmission or the 7-speed Lineartronic® CVT automatic transmission with manual paddle-shifters, you'll have fun putting this crossover through its paces on the highway or off-road.
This crossover SUV combines aggressive styling inside and out. The roof-mounted raised rails contribute to a bold look and accommodate all your gear from bikes to kayaks, freeing up the inside for even more weekend toys. Featuring more legroom than a Jeep Renegade or Honda HR-V, the Crosstrek will get you where you want to be without cramping your style. You'll have plenty of room to tow your favorite items, whether it's bikes and sports gear, camping equipment, or home and building supplies.
With a variety of advanced safety options, the 2018 model of this crossover SUV builds on the previous year's 5-star safety rating from the National Highway Traffic Association. The vehicle boasts safety features like blind-spot detection, rear cross traffic alert, active driver assist technology, and a rear-vision camera. Front to back, the new model includes both active and passive safety features for the ultimate integrated driving experience that begins with a Libertyville Subaru dealer.
If it's time to find your fit in a new crossover SUV, visit your local dealership today and browse the inventory for the excitement and adventure that comes with owning a new vehicle. Schedule a test drive to explore the 2018 models. Be sure to bring along a backpack and gear, because this SUV's performance and value will leave you wanting to head straight from the dealer's lot and directly to the mountains or wherever your next adventure awaits  you. The new year is the perfect time to get behind the wheel of a brand new vehicle. Start test driving and learning about your options well in advance so when the time comes you'll be ready to buy with confidence and drive away in a vehicle that you love.
2018 can be your year to shine when you start off with a new crossover SUV in a make and model with a great reputation for safety and value. See where the road takes you as you enter into the new year in a new SUV.
---