2018 Subaru Crosstrek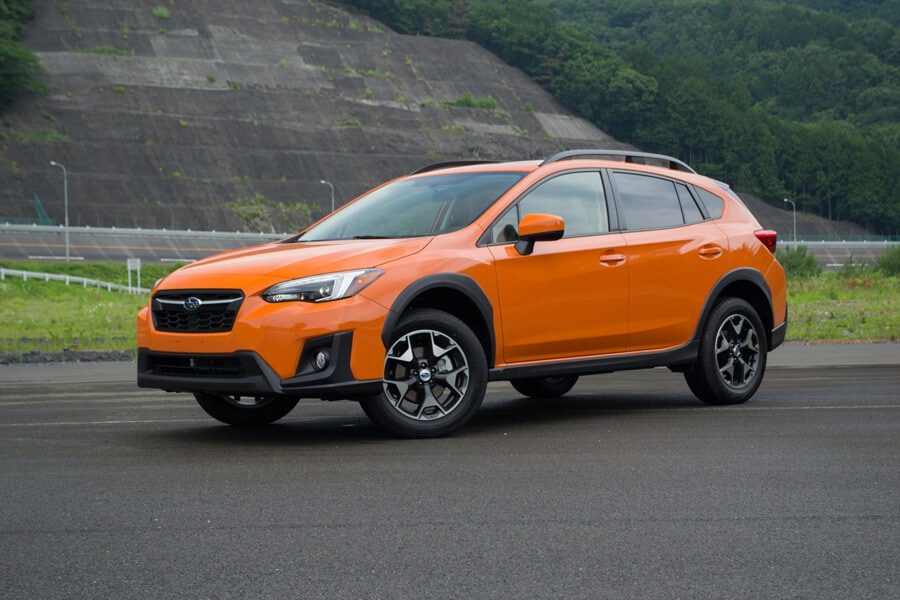 The Subaru Crosstrek has been a favorite among the adventurous and outdoorsy since its debut in 2012. The latest version comes revamped with a more spacious interior, sleek new styling, the latest upgrades in technology and safety, and a new body structure based on the new Subaru Global Platform.
With the lowest 5-year Cost to Own in its class, according to Kelley Blue Book, the 2018 Crosstrek is an excellent choice for those looking for a subcompact car that suits their rugged lifestyle.
Newly Redesigned
The smartly designed 2018 Crosstrek provides an even more spacious interior, with up to 100.9 cubic feet of passenger volume. The 2018 model boasts a widened rear gate opening and  60/40-split fold-down rear seats, allowing you to fit three in the back with both rear seatbacks up or fold one down for additional cargo room. With greater legroom and cargo space, the Crosstrek retains an open, airy cabin feel with plenty of room for four to five people, a rare find in the subcompact genre.
Subaru has revamped body structure for the 2018 Crosstrek with the all-new Subaru Global Platform. This update delivers greater rigidity and a 40 percent improvement in crash energy protection. The increased occupant protection brings peace of mind in your driving experience.
Built with the Latest Technology
Incorporated with EyeSight, the Crosstrek monitors traffic movement, optimizes cruise control, warns you when you're swaying outside your lane, and can even help steer you back into your lane with the addition of Lane Keep Assist. In emergency situations, the Pre-Collision Braking feature can even apply full braking force. Subaru designed the latest Crosstrek with your safety in mind.
You won't need to pay more to receive smartphone integration, as the updated STARLINK Multimedia system with Apple CarPlay™, Android™ Auto, and Pandora® integration come standard. Newly available, is the built-in and voice-activated navigation system, as well as an all-new 8-inch touch screen.
Compared with other Subcompact Vehicles
Among the Subaru Crosstrek are many popular subcompact options for the outdoorsy. Slightly larger, but similar in many functions, is the Volkswagen Golf Alltrack. As with the Crosstrek, the Alltrack offers a lifted, rugged, all-wheel-drive compact car with a hatchback. While the VW Alltrack offers plenty of power it has less ground clearance, a higher starting price, and likely will not maintain the same residual value as the Subaru Crosstrek.
The Crosstrek also bears similar functionality as the Jeep Renegade. Both give the availability to get off-road in a smaller vehicle. While the Renegade offers a similar type of ride, the Crosstrek wins with greater interior comforts.
Visit Muller Subaru today to test drive the newly re-designed 2018 Crosstrek.